By Amanda Scott via Little Southern Wife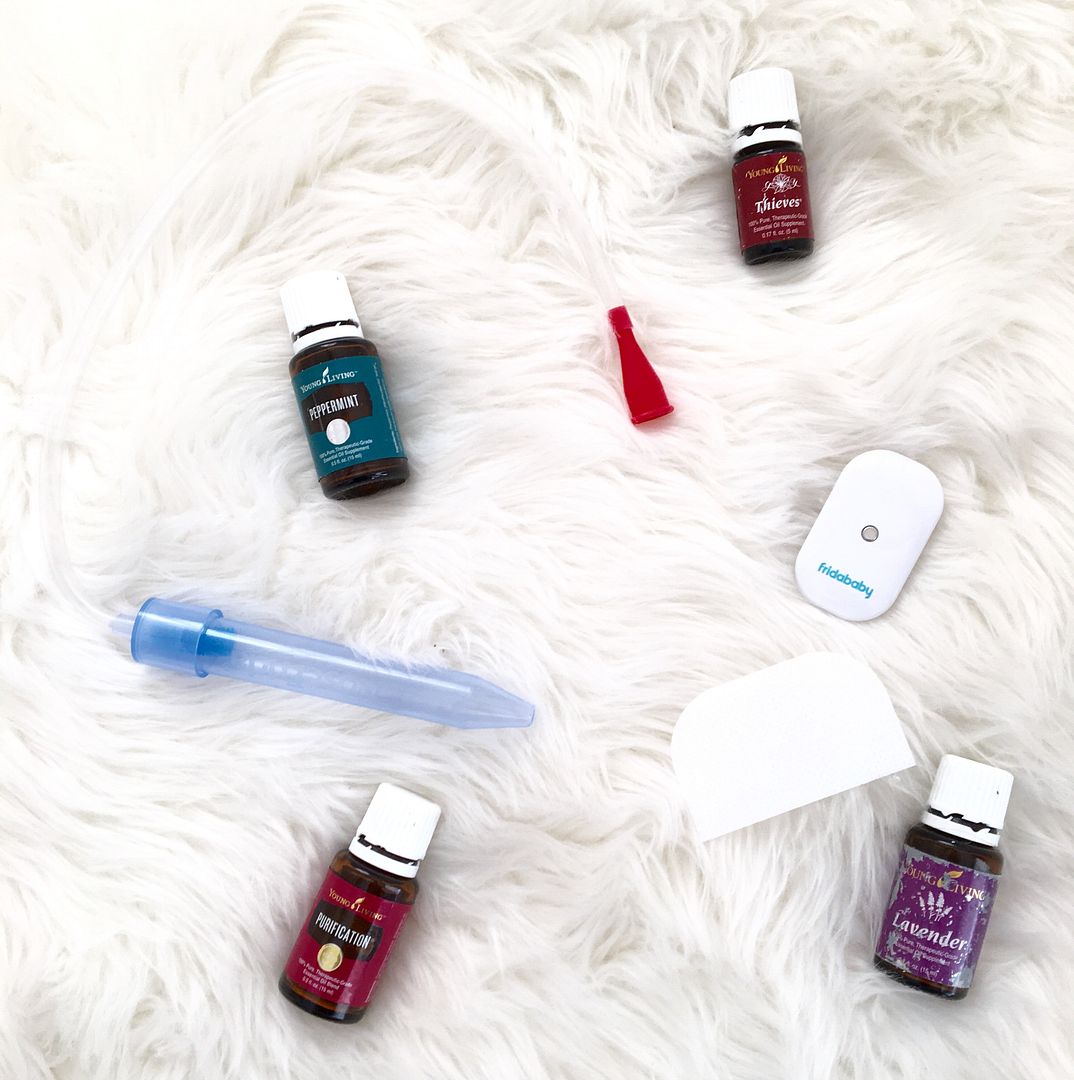 Happy Sunday ya'll! As you may or may not know, Harper and myself have been down and out with sinus colds for the past week! I've gotten over mine while Harper is still on the mend. She has had a fever, cough, runny nose and congestion during her cold but thankfully we have the right resources to help her body battle the bug. We have some "go-to" products that we use when we are sick and this blog is all about them!
I started noticing that Harper was really whiny and clingy a few days because her nose started running and I knew something was up. After we woke up from a nap she was WET with sweat so I checked her fever with our FeverFrida thermometer and saw that her temp was 99.8 degrees! I really love this thermometer because you can easily check your child's temperature without waking them if they are sleeping. You place one of the patches, that has a tiny Bluetooth monitor, under their arm and your phone will be alerted when the temp goes over a certain temperature! It even stores the date for your records and has medicine dose reminders. We monitor fevers while letting it run it's course because the fever is what helps burn off the sickness. If they get to hot, we take cold wash clothes and place them on their foreheads. This has always knocked down their temperatures for our children and now that we use essential oils, we apply a drop of diluted Peppermint oil on the bottoms of their big toes as well! I love how the FeverFrida keeps up with the temperatures so I don't have to continuously check them and bother the kids.
A few days after I found out she had a fever, the runny nose started and it's been like a waterfall! I cannot stand for my babies to feel bad and no one likes a stuffy and runny nose. I've been using the NoseFrida to suction the snot out and although she doesn't love the process, she loves the results. I used a bulb syringe on Nolan when he was a baby but I found an article about the yucky stuff that builds up inside it so I decided to cut mine open and was so grossed out by what had accumulated inside even with me cleaning it out that I threw it away! I found the NoseFridaat my local Target and I've used it on my kids ever since! It's so easy to pull out and help them get some relief that I honestly don't think twice about using it. It's a staple in our "medicine cabinet" and is such a lifesaver, I cannot imagine battling colds without it. It's really easy to use and NOT scary like I first thought. You place the red mouth piece of the NoseFrida into your mouth then pllace the large tube at the base of your child's nostril, using your free hand to gently secure your child's hands or head. Apply gentle suction to begin with, increasing suction as necessary until you see mucous in the large tube. The filter will protect you from getting anything near your own mouth. Make sure to clean it after each use. Firstly, disassemble the device and remove and discard the hygiene filter. Wash the device with soap and warm water, rinse well and allow to dry. Replace the hygiene filter and reassemble ready for next use. Easy peasy right!?!
In addition to these awesome products, we use Young Living essential oils to battle colds. Because essential oils should be used with extreme caution with children, make sure that you always dilute the oils you are applying (I use a 1:1 ratio of essential oil and coconut oil) and DIFFUSING works wonders as well! My family recently discovered a specialty essential oil blend called SniffleEase from the collection KidScents by Young Living Oils. It contains a variety of oils that work together to combat a runny nose. We have had plenty of opportunities to put it to the test this season! Harper is to young to apply this oil topically but we have diffused it in our diffuser and put 1-2 drops in the bottom of a hot runny shower and sat in there with her for 20-30 minutes at a time. The steam method worked amazingly for her! Within 15 minutes she was breathing and actually trying to play.
I always pull out lavender essential oil when any of us have runny noses, I diluted it and applied to the bridge of her nose as needed when I would see the mucus coming out and after we would suction with the NoseFrida. In addition to applying the lavender and peppermint oil as needed, we keep our diffusers running constantly with Thieves, RC and Purification essential oils in them. I hear a lot of people asking, "Why should I even diffuse essential oils when I could just put them on my body?" and I want to scream THERE ARE SO MANY REASONS!!!!!! AHHH!!!  I love to diffuse my essential oils and I think it's one of the most under appreciated methods so it seems a great place to start! Diffusing essential oils is a powerful way to get ALL of the benefits of the essential oil, especially for the mind and spirit!
Thanks to this blend of products, we are able to naturally fight our colds and our immune systems become much stronger after they naturally run their course. I am so happy to have such a great collection in our "medicine cabinet" that help make the experience more pleasant and help the kids feel better during the process. If you have any questions about Young Living essential oils, please email me at [email protected] This month, Young Living is giving customers 10% off of the premium starter kits – which include 11 everyday oils and a diffuser – so this would be a great month to start your holistic "medicine cabinet!"
Disclaimer: This post originally appeared on  LittleSouthernWife.com